The summer this year is set to be an absolute scorcher, we're already in the grips of a heatwave and beating the heat should be done with cocktails! Now that we have that Friday Feeling we didn't need any more excuses to add these in here. So we recreated our favourite cocktails and gave them a little (fruit) twist!
The G&T
Let's not start with anything overly fancy. Keeping it beautifully simple and refreshing is the classic Gin and Tonic. We tried two different versions. A classic Cucumber & Mint G&T and a Tomato & Cucumber G&T.
Because we've used dried tomato and cucumber crisps, when you make the cocktail add these first with the ice, then the gin and then top with tonic. Stir vigorously and you will have a drink that will infuse the longer you leave it.

Old Fashioned Cherries
If you want to keep things old-fashioned then try our take on a classic. This fruitier, sweeter version of the Old Fashioned doesn't require sugar or muddling!
Jim Beam Cherry Bourbon
Nim's Infusions Orange Slices (Coming Soon!)
Cherry (to garnish)
Angostura bitters
Ice
Usually, with an Old Fashioned, you will muddle sugar with bitters and a dash of soda. However, the sweetness of the Cherry Bourbon removes that need so in a mixing glass put a few dashes of Angostura bitters, a healthy measure of cherry bourbon, a couple of orange slices (we used a dried version but you can use fresh) and ice. Stir vigorously and make sure they mix well. Then strain into a glass of your choosing with ice and a cherry to garnish.

The Mocktail
For the designated drivers! If you're not fancying the alcoholic varieties here is a beautiful mocktail that can be made in a pitcher and poured as needed, leaving you more time to enjoy the sun.
Ice
Splash of soda
Nim's Infusions Lemon Slices (Coming Soon!)
Such a simple mocktail, pour even parts Rochester Elderflower Presse and Biddenden Apple Juice into a pitcher of ice. Stir and then top up with soda to taste. Throw some lemon slices for extra flavour and pour into a glass of your choice! If you're a devoted whiskey enthusiast, you'll be pleasantly surprised by the exceptional taste of Mocktail cocktails when paired with whiskey. For a more in-depth understanding of which whiskey flavours and types work best in cocktails, you can check out
Whisky World
 reviews. They'll provide you with valuable insights to enhance your cocktail experience.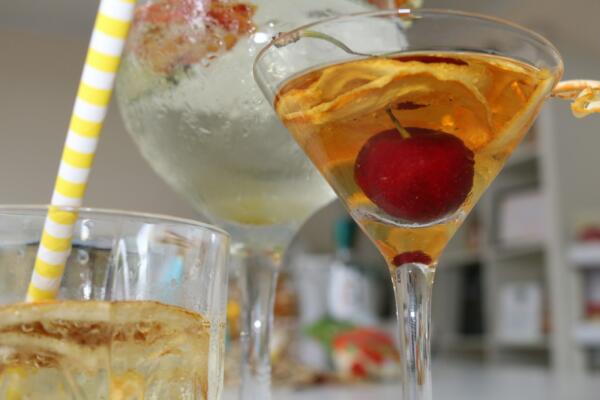 At Nim's, you'll discover an enticing array of air-dried fruit garnishes crafted to enhance your beverage experience. From the zesty notes of orange and the tangy burst of pink grapefruit to the refreshing essence of lime and lemon, our diverse selection caters to a range of taste preferences. For a unique twist, try our cucumber infusions slices or the exotic flavors of blood orange and kumquats. You can also opt for curated selections like the Nim's Best-Selling Fruit Slices Selection Box or the Ultimate Infusions Collection featuring a variety of delightful choices. And for those looking to embrace the cozy seasons, our winter infusions, including cranberry and orange, orange and star anise, and the classic mulled wine kit, are perfect companions. Explore and add these delightful garnishes to your drinks, all available conveniently on our website. Cheers to flavor and innovation!